Aspiring journalists can also get jobs in public relations firms and advertising firms. A resume for journalist that stands out will help you secure a job in these firms or get outstanding gigs as a freelancer.
You can increase the chances of getting your dream job by writing a resume that grabs the hiring manager's attention. One way to do this is using the right template or resume builder to create a resume that sets you apart from other job seekers.
Let's look at some other tips that will help you write a job-winning resume.
Additional information about the journalist resume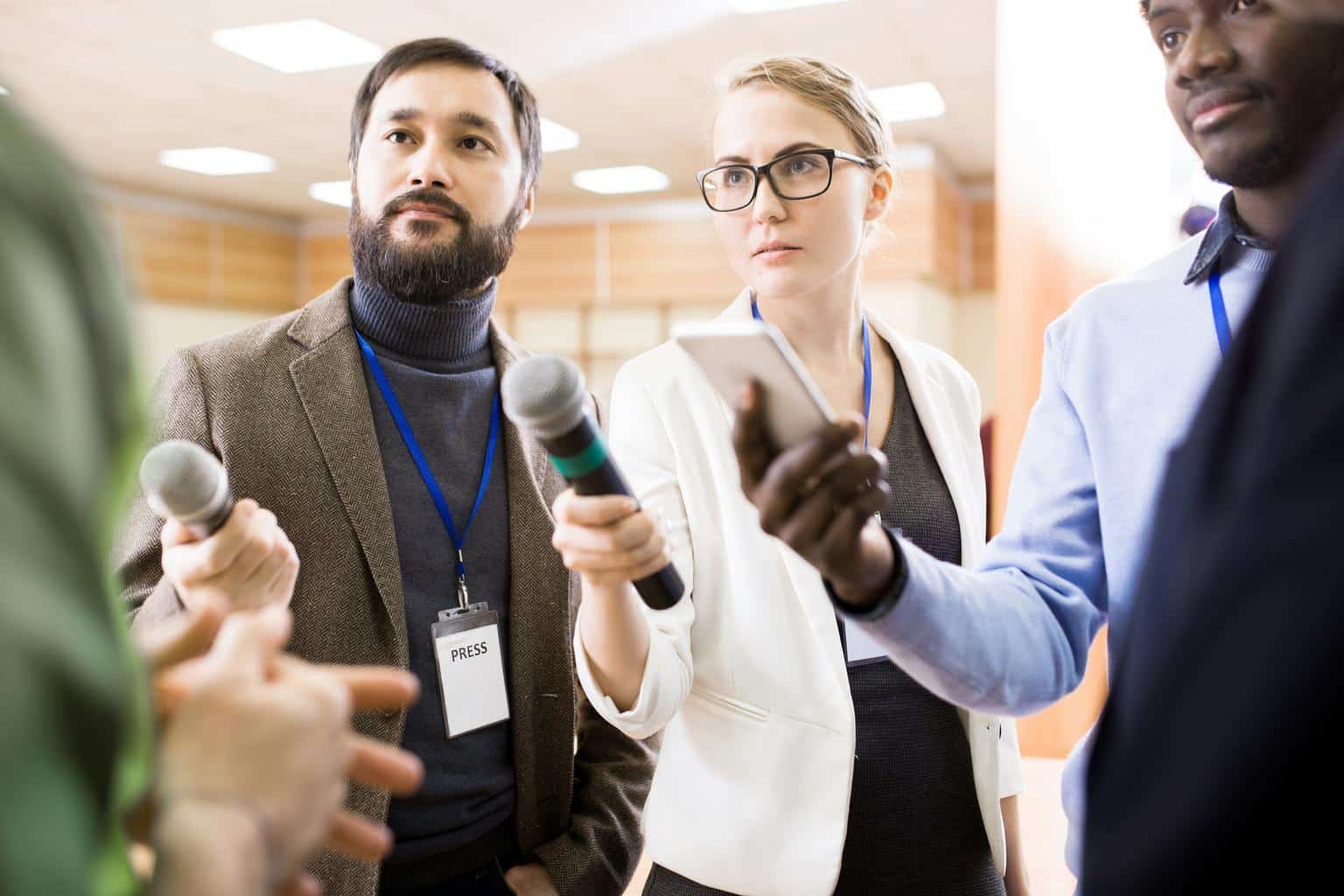 According to the U.S Bureau of Statistics , the companies hiring the most in the journalism industry are newspaper, periodical, book and directory publishers, Radio and Television Broadcasting, Motion picture and video industries, colleges, universities, and professional schools.
The average yearly salaries for journalists at different levels of their career, including tips, bonus, and overtime pay, are as follows:
Entry-level $31,278
Early-career $39,595
Mid-career $46,518
Late-career $56,449
Experienced $60,059 (U.S. Bureau of Labor Statistics).
Example of a resume
Neha Smith
Journalist
9560835232
nehasmith@gmail.com
New York, USA
Experienced journalist with exceptional leadership skills. Proven experience in delivering a vast array of in-depth and informative news articles, including health and wellness and international politics.
Work experience
Sub Editor
Bold Limited Magazine, New York
August 2019-June 2020
Edited assignment stories for multiple platforms and researched and selected appropriate visual content to be included.

Informed readers of fresh and new insights of previously reported articles to keep them up to date.

Utilized interviews, observed, and researched to collect and verify story information before submitting for publication.
Copy Editor
ABC News , New York
July 20218-July 2019
Submitted scripts for concepts to be included in launches, ad-sponsored campaigns and current shows.

Gathered information for stories and other articles by interviewing previous sources and contacts and following leads.

Effectively conveyed each story using a combination of videos, audio, and graphics.
Education
Bachelors in Journalism and Mass communications
Institute of Management Studies (IMS)
2017
Skills
Excellent writing skills

Technological news gathering tools

Excellent research skills

Copywriting skills

Public speaking
Activities
Created content for a personal YouTube channel that focuses on pop culture news and the media business.

How to make a journalist cv?
If you want to get any job, you need to send a professional resume to be considered for the position. The journalism industry is not any different. You need a journalist resume that stands out to get a job in this competitive industry. You also have to tailor your resume for each position to meet the requirements of the hiring manager.
If you want to get a journalist job, you need to show your potential employer that you are exactly what they need for the job. Here are some tips you can use to personalize your journalist cv and get your dream job
Use the right resume format for your journalism resume.
Check the job description and add all the relevant skills to your journalist resume.
Use the necessary keywords since most hiring managers use applicant tracking systems to filter out journalist resumes without these keywords.
Expert tip

Check the job description since it's usually filled with some of the keywords and skills you need to add to your journalist resume and add them to your resume to increase your chances of landing an interview.
The layout of the journalism resume
Your resume layout speaks about your professionalism and can help you get an opportunity or miss out on it. The right format for your journalist resume is the reverse-chronological format which allows you to focus on your work experience.
The structure of the journalist resume
There are two other formats you can consider using when writing your journalism resume. They include functional and combination layouts.
The functional resume helps you focus on your skills and is excellent if you don't have much experience. The combination resume blends the best features of the reverse-chronological and functional resumes and is perfect if you have previous experience.
A journalism resume structure has the following sections.
The header section
Professional summary/ resume objective
Work experience section
Education section
Skills section
Additional sections.
Start with the header of the journalist resume
The header section contains your contact information and a link to your blog or portfolio. You will include your full name, phone number, professional email address, home address(optional), and location(optional).
Example of a good header
CORRECT
David Kenia
0798359784
davidkenia@gmail.com
New York, USA
davidkenia@wordpress.com
Example of a bad header
INCORRECT
David Kenia
0798359784
davidkenia@gmail.com
davidkenia@wordpress.com
Date of birth 03/05/1991
House number 34
Chambers Street
10007, New York
New York
The header section should not have too much personal information.
Is a photo required in the journalism resume?
It is not required to put a photo on your journalism resume but may be expected as you could be the face of the employer. If you do include a photo, make sure it is a professional photo.
Choosing your journalism resume title
It is essential to tailor the job title to each job because they vary with each job and company.

Professional summary/profile
The resume summary summarizes your professional achievements and experience and should compel the hiring manager to read the rest of your resume.
CORRECT EXAMPLE
CORRECT
Successful multimedia journalist with more than eight years of experience committed to excellence and integrity. Excellent command of the English language and well-versed in a wide range of writing styles. Proficient in developing feature articles, news stories, editorials, and broadcast scripts.
INCORRECT EXAMPLE
INCORRECT
Dedicated journalist with a stable work history looking for a position as one of your editorial staff members. I also have experience in social media and investigative reporting.
A resume objective is perfect if you are a recent graduate or changing careers and don't have much experience. It allows you to express your passion for the job and talk about your transferable skills and career goals.
Work experience in the journalism resume
Your work experience is an integral part of the resume since it allows your potential employer to see what you can do based on your previous work experience. A journalist resume sample can help you write your work experience section if you are unsure how to do it. You can also check out our resume examples .
Describe your professional experiences on your Journalist resume
When you are listing your work history under the work experience section, start with your role, the company name, dates of employment, and the general responsibilities at each job which you list using bullet points.
The best experience to add to this section is any professional experience relevant to the job you are applying for. It is advisable to leave out any experience that is not relevant to the job. A good tip is also to mention your quantifiable achievements, as that helps potential employers to see the value you bring to the company.
Examples of professional experiences for journalist beginner/junior
Broadcast Intern
Standard Group Media
January 2019-July 2019
Responsible for setting up the equipment needed at remote stations for broadcasts and promotions.
Traveled to various locations and composed reviews of events and personal experiences with the help of other journalists.
Assisted the staff reporter who conducted interviews with compiling the reports, including some personal data, and got positive feedback from the senior editor.
Examples of work experience for Senior Journalists
CORRECT
Senior News Editor
Nation Media Group
June 2019-Date
Managed a variety of projects and supervised a team of eight editors, associate producers, and production assistants, increasing the number of projects released every month by 5%.

Made arrangements for post-production activities for three different shows every month.

Trained two junior writers every three months who came in as interns.

Provided compelling coverage of any breaking news and spontaneous news for print and online media.
Education in the journalist resume
The education section in your resume allows you to list any education you have earned, whether it's a college degree or a high school diploma. It is an important section to include in your resume whether you are an entry-level journalist or an experienced journalist, as seen in most resume examples.
Should you start with education or work experience?
You can start with the education section or work experience, depending on the resume format you choose to use. If you choose the reverse-chronological, you should start with the work experience, but you start with the skills if you choose the functional or combination formats.

How to properly list your education in a Journalist resume?
The education section should include the university or college name and location, the degree earned, and the years of study.
Example of the Education section of a Journalist resume
CORRECT
Bachelors of Journalism and Mass Communications
Manhattanville College, New York
2018-2020

Skills to put in the resume for a Journalist
Any resume example you look at will have the skills listed, and that's because it is a vital section in a journalism resume. A journalist requires specific skills that help them perform their duties efficiently. It is essential to list only the relevant skills you have and leave out any irrelevant skills that are not required for a journalist.
The job ad/ job description contains some of the required skills, so you can check and include them in this section.
What are the main skills sought for a Journalist?
Let's look at some of the job skills you need to add to your resume.
Hard skills
Copyediting skills
Adobe photoshop
Investigative reporting
Videography skills
Presenting hard news
Broadcast reporting
Relationship building with third party affiliates
Research skills
Soft skills
Communication skills
Multitasking skills
Time management
Integrity
Attention to detail
Problem-solving skills
Organizational skills
Excellent writing skills
What skills for a junior journalist
Basic videography skills
Basic coding skills
Editing skills
Computer-assisted reporting
Communication skills
Creative
Interviewing skills
Social media reporting
What skills for a qualified senior
Communication Law
Fact-checking
Following leads
Broadcast reporting
Knowledge of FileMaker Pro
Advanced Knowledge of Maya
SEO proficiency
Write the ideal resume hook for a Journalist
A resume hook is a set of words that summarizes your achievements and value proposition and can be written as a quote, testimonial, achievement, or personal description.
Example of a tagline for a junior employee
The central dilemma in journalism is that you don't know what you don't know. – Bob Woodward
Sample tagline for a senior level
Produced award-winning popular television shows, including The Oprah Winfrey show.
Additional headings for your Journalism resume
The journalism industry is very competitive, which means your resume should showcase your skills and experience like you are an Anderson Cooper.
You can provide links to your own work and social media channels, but many recruiters want to see what sets you apart from everyone else. An additional section containing your certifications, interests, and languages is an excellent way of grabbing the attention of many employers.
If you love to use a resume template, you will find these sections in most templates. Check out our resume templates .
Computer skills and certifications
If you have any certificates that will help your journalism resume stand, you should add them in this separate section. Some of the certifications and computer skills you can add to this section include:
Certificate in Digital Content Management
Certificate in Communication Access Realtime Translation
Interests
The interests are controversial because some hiring managers can quickly disqualify you if your interests are irrelevant to the position. If your interests do not fit the profile, it is better to leave this section out. Some interests you can consider for a journalism resume include podcasting, blogging, photography, and videography.
Languages
The languages section is an important one to add to your journalism resume. It is essential to list the language and the proficiency level and use the official language references as you list them. For example, SIELE for Spanish, DELF for French with a score of 70% and above, and IELTS or TOEFL for English with a score of 30 points and above.
Summary: Key points for writing a perfect Journalism resume
Here is an overview of the points we have discussed in this article to help you create a journalism resume that gets you your next job.
Ensure the contact information in your journalism resume is accurate.

Use the correct format for your journalism resume.

Add all the relevant sections in your journalist CV, including the header, resume summary/objective, work experience, education section, and skills.

Always send a cover letter even if it's not a requirement because it helps your application stand out.
Write a cover letter that goes with your journalism resume
Most hiring managers don't ask for cover letters, but it is essential to accompany your resume with one to help your application stand out. A cover letter allows you to talk about some of your achievements, express your passion for the job, and helps set you apart from other job seekers.
Frequently Asked Questions
How do you write a journalism resume?
You will need to add all the relevant sections, including the header, summary/objective, work experience, education, skills, and any other additional sections to help your resume stand out.
What are the skills of a journalist?
A journalist should be able to write a news article, cover press conferences, and have excellent interpersonal skills such as patience, flexibility, and leadership.
What skills should I put on my resume for journalism?
Some of the skills you need on your journalism resume include broadcast reporting, field reporting, excellent written English, presenting news, and research.
What are your objectives as a journalist?
Journalists should maintain objectivity in journalism and practice objective reporting where they always remain neutral and unbiased.