A well-crafted machinist resume is the easiest way to show the hiring manager that you're the best hire for the position. That's the first step to landing your dream job.
If you're an experienced machinist trying to upgrade your job to a better-paid one, you're in the right place. We will show you step by step how to create a resume that places you better than 95% of the other applicants.
If you're looking to apply for an entry-level machinist job or you're in a career shift wanting to become a machinist, we have you also covered in this article.
We will show you how to use your previous job experience or the experience you gained through the apprenticeship program to align with the job description and dramatically improve your chances.
Sounds familiar? Let's start!
CNC Machinist Resume Example
John Harvey
Machinist
jharvey@gmail.com
+1 289 97 76 56
Professional summary
Dedicated machinist with 7+ years of experience in production and maintenance; seeking to join KDL production as a senior machinist to deliver high-quality work. In MachineTech, awarded the most efficient machinist in 2020.
Experience
Aug 2016 to Present
MachineTech- machinist
Met and exceeded the annual production goal by 5% in 2020
Reduced the downtime of the machine by 15% with proper maintenance
Zero unscheduled maintenance in 2020
Reduced the design changeover time from 20 minutes to 10 minutes saving $300,000 annually for the company
June 2015 to Aug 2016
Mech Crunch- machine helper
Assisted the lathe machinist as a helper
Carried out loading and unloading for the machine
Performed daily routine maintenance and cleaning
Education
Stanzon High School, High school diploma, 2010-2014
Mathematics general pass
Machine technology and specialized motor mechanics
A player of the school baseball team
Skills
Machine operation with CNC lathes
Manual milling machines and CNC mills
Routine machine maintenance
Advanced operations with CNC machine, milling machine, horizontal boring mill, conventional mill, surface grinder, drill press, lathe operation, and other precision equipment
Diagnose machine malfunctions
Experience using precision measuring devices
Metalworking skills
Problem-solving skill
Time management
Teamwork
Certificates
Certificate in shielded metal arc welding (SMAW)
You can also check out the resume for production workers for more insights.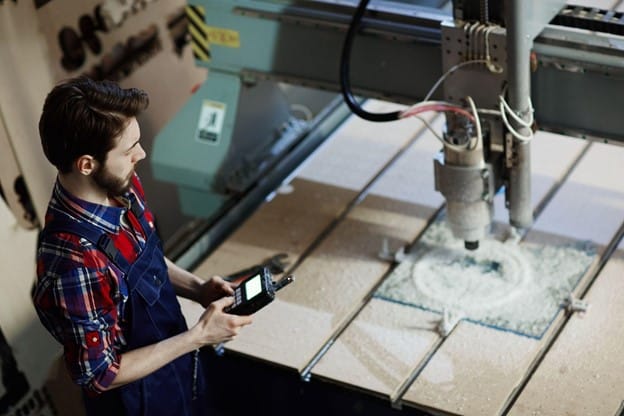 Salary & Employment Rates for Machinists
Machinists are having a rewarding career in manufacturing organizations: starting as machine helpers and going up to plant manager levels.
While the average machinist salary is $51,000/ year (Payscale.com), it could vary significantly based on the industry, type of the product, and experience.
Further, the special skills of the machinists, such as blueprint interpretation, CAD/CAM, machinery troubleshooting, Computer-aided drafting & design (CADD) contributes to significant differences in salaries.
How Can I Write a Resume for a Machinist?
Machinist resumes are no different from most of the other resumes you have seen. However, hiring managers are not expecting a general resume from you.
When you create your machinist resume:
Keep the resume to one page
Update your resume every time you send it to a different position
Write to the point
Hiring managers of manufacturing plants and factories are getting thousands of applications daily. Therefore, the time they spent on one resume is very limited. Your resume should be structured in a way that the hiring manager identifies your skills and shortlists them in 3-4 seconds.
Having a clear layout and a structure defined at the beginning would vastly help this.
The Layout for the Machinist Resume
The resume layout is the plan: the process you follow in writing your resume. Having a layout makes your resume content organized and makes sure you do not miss any important information.
We recommend this:
Name and contact information
Professional summary statement
Work history
Education
Skills
Additional sections
Machinist resume format
Standard resume formats fall into three categories. While all three are allowed and used in the industry, there's one format that is widely used for machinist resume writing.
Functional (skills-based): This format emphasizes relevant skills instead of job history
Reverse Chronological (Traditional): Your most recent experience is listed first, followed by your previous experiences in reverse chronological order
Hybrid (combination resume): This is a combination of the other two formats
For an experienced machinist, we suggest you go with a reverse chronological format of resume which is of course the most popular resume format out of all. So in this article, we use only the reverse chronological resume format in our examples.
The content in your resume is more important than its appearance. However, do not take a risk. As you're applying for a high-paid job, spend some time making your resume look good. At the end of the day, you're supposed to be a precision-first and detailed oriented person. Show it in action.
Follow these resume formatting guidelines:
Send your resume in PDF format or MS Office format (if the job description does not mention any, go with the PDF)
Keep your resume's margins consistent
Choose a font with high readability
Size your headings and other texts appropriately
Right formatting takes time. If that's something you can't afford right now, check out our ready-to-fill resume templates, used by thousands of aspirants to land their dream machinist jobs.
Start Your Resume with the Header
Your hiring manager will see this section first: make a good first impression. The objective of the header is to introduce you briefly. It should include your name and contact information.
It seems basic, but we have seen candidates make mistakes in this section. Take a look at this example and make sure you don't make the same mistake.
A good & a Bad Header
CORRECT
John Harvey
Senior machinist
jharvey@gmail.com
+1 289 97 76 56
INCORRECT
Senior machinist
John Harvey
johnharveythebest@gmail.com
+1 289 97 76 56
56, main street, apt 43,
Washington DC
USA
This is all you need to remember while writing your resume header:
Do not start your header with your designation. The best way to start is with your name
Use a short, a professional-looking email
State a contact number they can easily get to you. Preferably your mobile number
Do not write your full postal address if they haven't asked specifically
How to Describe Your Experience
If the recruitment manager has time only to read one section in each resume, he will pick this section.
This section has the potential to increase your resume conversion rate significantly and get you 10 times more interviews.
Your relevant experience is what the hiring manager is looking for: it makes it easy to make a risk-free decision.
Not having much experience?
Still, if you possess the necessary training and you are capable of doing the job, you should apply. Make sure you are confident during the interview and the on-site test. We will tell you how to get the interview:
Examples of Work Experience for an Experienced Machinist
INCORRECT
Aug 2016 to Present
Machine tech- machinist
Maintained the equipment
Manual lathe, milling, boring operations
Reading machine drawings
CNC lathe
Software programs
Trained CNC machinists
CORRECT
Aug 2016 to Present
Machine tech- machinist
Achieved the annual production target in 11 months in 2020
Reduced the scrap metal waste by 5% optimizing the controls saving $200,000 for the company
Performed manual and CNC operations for all drilling, milling, boring, and tapping for ferrous and non-ferrous metals
Trained more than 10 new machinists last year only for machining operations, maintenance, and repairs
Performed machine troubleshooting in critical conditions
Experience in machine shop operations
Understanding of machine parts
Regulate machining factors to achieve the most efficiency in CNC machining and other manufacturing operations
The difference is about how you write your experience. If you're the hiring manager, which of the above candidates would you choose?
Probably the second, right?
The second candidate has added credibility to his experience by including numbers; power words such as achieved, reduced, performed trained have added significance to the actions.
Examples of Work Experience for an Entry-Level Machinist Resume
INCORRECT
No work experience as a machine trainer
Understand general machining operations including CNC, milling, boring, drilling
Identification of shop equipment
Understanding of machine components
Learned basic machine functions
CORRECT
Aug 2016 to July 2018
Mechanical Technology Institute
Worked as a machine helper while training
Had 3 hours a day machining training in CNC and manual lathe machines for 6 months
Awarded for the best machining project in 2017
Performed milling, boring, tapping, and drilling operations and achieved 90%+ precision scores for all operations
Understanding of cutting tools and operating machines in industrial capacity
Stating in your resume that you have no particular work experience in the trade you're being hired for is suicide.
Instead, relate your experience at the training school, apprenticeship program, or any similar skill work that you have performed.
Remember, those who write well will get called for an interview, not those who worked well!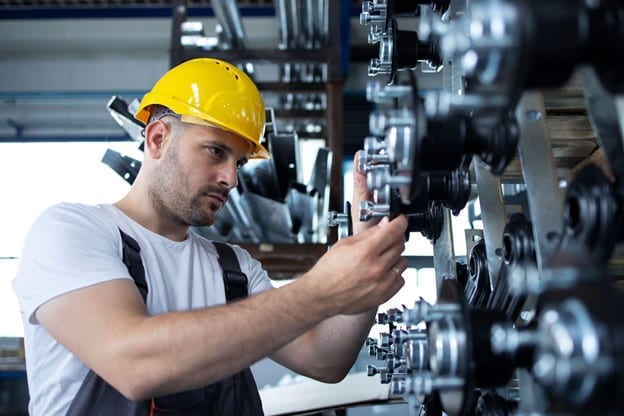 Education: Highlight Your Academic Background as a Machinist
Some machinists could come with an educational background and some may come with years of experience in operations.
However, in both cases, you should state the level of education you have reached.
Use a consistent format to list down your education that includes your school/ institute name, graduation years, and important learnings.

Education
Mechanical Technology Institution, Machining diploma, 2011-2014
Basic and advanced machining operations
Machine maintenance and repairs
Technical drawing and product design using CAD/CAM
If you're applying as an experienced machinist, you should prioritize your experience. However, if you just passed out from your institution and are applying for your first job, you may prioritize your education in the resume.
What Skills Does a Machinist Need on the Resume?
If you don't have much experience as a machinist, your skills section could be crucial. In order to make a hiring decision, recruiters will look at your resume for skills.
Employers specifically mention the skills a candidate must possess in the job description. Pick out the skills they need from the job description.
Most candidates make the mistake of dumping generic skills here. If you're among the 95% of the candidates doing so, let's change it today!
You should write a combination of soft skills and hard skills relevant to the job you are applying for, with the emphasis being more on hard skills.
Soft Skills:
High precision in work
Communication skills
Time management
Work ethics at the highest level
High endurance
Interpersonal skill
Hard Skills:
Rectification of machine tool malfunctions
Computerized machine control media
Advanced machining process knowledge
Quality control
Working with drill presses, CNC machines, boring machines, manual lathes, heavy-duty lathes, manual mills, surface grinders, and other precision instruments handling
Basic repairs of hydraulic systems related to the machines
Electrical wiring
Precision measuring instruments handling
Industrial machines and mechanical equipment operations
About me: Professional Summary
Hook the recruiter to read your whole resume with a compelling professional summary. Consider this as your sales pitch; the two sentences that convince them you're the best fit for the job.
In the first sentence, describe what you can do to solve the problems your employer is facing. The second sentence should describe what you did to resolve the most troubling problems at your current or previous employer.
Examples
CORRECT
Professional machinist with 7+ years of experience in manual and CNC milling operations dedicated to providing MT Productions PLC with world-class machining expertise. As a senior machinist at MachineTech, I improved production efficiency by 15% while also increasing work precision by 5%.
INCORRECT
A senior machinist with 7+ years of experience would like to join MT productions PLC. I am a dedicated machinist who works hard to achieve the production target.
Read the job description carefully to identify the desires and pain points of the recruiter. They should have mentioned exactly who they're looking for. Pick those keywords and include them in your professional summary.
Also, add more credibility with numbers and achievements.
Your professional summary should showcase your personality to the hiring manager.
Machinist Resume Objective
The professional objective will not differ much from the professional summary. If you're applying for an entry-level position without having much experience to write in your summary, consider writing a professional objective.
In place of your experience, state your career objectives here.
Also, consider writing a career objective if you're planning a career change. In that case, state your enthusiasm toward becoming a machinist.
Additional Sections for Your CNC Machinist Resume
The vast majority of candidates refrain from putting this on their resumes. But don't worry, the majority of the applicants do not get called for an interview.
Do what the majority doesn't do if you want to be called for the highest-paying jobs in your industry.
Use additional sections to give a pleasant surprise to the hiring manager.
Computing Skills & Certifications
If you have a CNC machinist certification, level 1 or 2 machinist certification, or machinist training certificate, state it as a separate section with the heading: certifications.
The reason you should state this separately from your education section is for greater visibility. You don't want to hide something this big in the education section which might get minimum attention from your hiring manager.
Also if you have any certification for IT, basic computer literacy, or any programming language, do state under the "Computer Skills" section.
Most operational job positions for machinists now involve working with computers and machine programming languages.
Some manufacturing organizations have in-house programs for training their employees on these new skills. What if you already have them?
Languages
When you are fluent in more than one language, specify the language and its level of fluency. Check out our ready-to-fill resume templates for professionally designed resumes where you can state your language fluency in an organized manner.
Tips to Boost your Machinist Resume
We have already shared everything that you need to get your machinist resume to the top 5% of the resumes. Here're a couple of points to boost your resume further.
Use a modern design for your resume. You can find some great resume templates here
Ensure your resume is free of spelling and grammar errors by using a program such as Grammarly
Use a clear, readable font throughout the resume
Summary: Writing a Perfect Resume as a Machinist from Zero
Include your name and contact information in your heading
Based on your experience, write a Career Objective or Professional Summary
Be specific in your experience section about your accomplishments; use numbers
Showcase your education in a consistent format
When writing your skills section, include both soft and hard skills
Make your resume stand out by using the additional sections
Complement your resume with a cover letter
Your cover letter should complement your resume. Tell your employer why you are excited to join the new company, your experience, and your skills, and what you will bring to the organization as a machinist.
Solve the most troubling problem they have; precision machining operations, on-time delivery, and reliable service are probably what they're looking for in a new hire. Tell them those are your greatest strengths.
If you're not having much job experience in a related position, take the most advantage of a cover letter by expressing your enthusiasm towards the new job.
Try Other Templates for Your Machinist Resume